Well what an exciting party we had. So exciting in fact that I did not take any pictures! How ever my good buddy Maria did take some, so if I can get her to send me a few I will post them.
I had fun, but was exhausted at the end of the day, and it carried into Sunday when we had to attend a birthday party for another good little friend who turned 3.
I got some great presents and I did take some pics of those.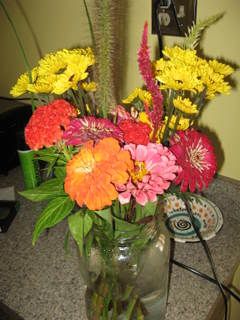 Two friends brought me flowers, and I combined them to make a lovely bouquet.


Another friend hand painted this bee themed bowl for me, making me the Queen Bee. And since I want to have a bee themed kitchen its perfect!


Here is the moon bounce I purchased to make the party extra special. And boy was my house pretty tidy, no toys all over the place or anything. It made the party fairly maintence kid free. Gene is still pissed but, I am not going to return it..period!


My dear friend Maria bought me this super cute reversable skirt in an attempt to get me into more skirts/dresses. And some lovely soap, and not pictured some fresh produce from the farmers market. Gone already..yum!


I was also gifted this lovely tablerunner. Can't wait to put it on the table.
And not pictured here was a gift subscription to Real $imple magazine, which I love!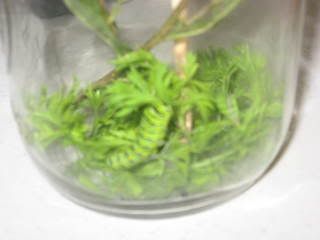 Our surprise guest at the party was this blackswallow tail caterpillar. He was the hit of the party!
He is now joined by 3 new roomates. And since we keep finding them on our carrot tops(we don't mind since we won't eat them!) Someone from freecycle is giving us an old fish tank to house them in, and thier future roomies. I guess if they don't hatch now, they will overwinter..for up to four months. These guys sure poop a lot, and watching them devour greens is soo cool. We will keep you posted on how they are doing.
In other news, I have not spanked Zach all weekend, and am trying really hard not to yell..maybe I will save some money on therapy later...here's hoping. :) CHOW