Wow its hard to believe its almost Oct. SO much to do so little time. I have to sew my garb for the campout and my halloween costume. I am just starting my garb today and think I can pull it off without having to buy too much stuff. My costume is another thing altogether. Its going to be hard to make.
I just wanted to take a quick minute to report how much better Zach's behavior has been lately. And I have not spanked him since I reported I did. I am trying really hard to be patient with him, and to talk softly to him when he does need some correction. It seems to be paying off.
We had a pretty stellar weekend. I made like 50 muffins for the Lawrence Community Environmental School yard/bake sale. Since they charged a buck a piece for them I feel like I contributed nicely, not to mention the other items I donated.
Friday was a great day. Zach had preschool, we took our family pictures there and his school pictures. Gene and I had some quality time since Zach was at school and I did not have to babysit any kids. Then the preschool had babysitting in the evening and we were able to go out for drinks with friends.
On Sat after I attended the yard/bake sale we had some quiet time at home. Gene got some side work, and then my step-dad spent the night since he was attending the Nascar race. I have to report he was very well behaved this weekend.
I spent most of Sunday catching up on housework, while Gene and Zach went to watch the model airplane show and later some father and son fishing. Although they did not catch anything they had fun anyways.
Since my stepdad was staying here he was able to bring us a recliner they were gving us.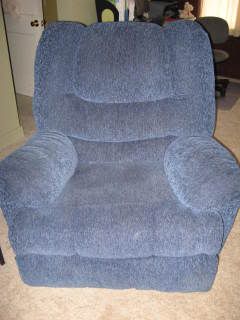 We really needed some more furniture anyways, having only a couch was not always comfortable. We were happy to welcome this piece of furniture into our home, its not only comfy, but Zach loves to rock in it with me.
I have some cutting and sewing to start on, and if I am lucky I might get a shower in before my babysitting kiddo gets here. Here's hoping...toodles.