Okay, so the goat cheese project was a total flop. What happened was that the recipe called for X amount of drops of liquid rennet(thickening agent), but the bottle of rennet revealed a different amount needed(like a lot more!) So what I ended up with is a kinda goopy soupy cheesy liquid, I salted it and it tasted good, but I am not sure what to do with it.. maybe bake some in a casserole? Put it over rice? I dunno.... I will prabably end up tossing it, but for right now its in the fridge.
The cows milk cheese is working out great. I followed the instruction on the bottle and it actually set well. :)
So will lay it out for you. I used 3 1/2 gallons of Organic Whole milk, 70 drops of rennet, and 2 tablespoons of cultured buttermilk(activator).
Milk:


What 3 1/2 gallons of slightly frozen milk looks like:


So you bring the milk to the right temp 68 F, and add the activator(buttermilk). Let it set overnight. Then check for clean break.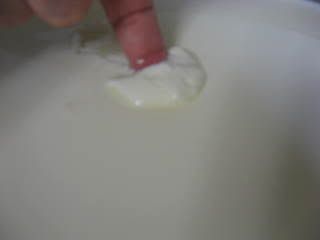 Then cut the "curds". Let them sit and then strain off whey(excess liquid). Save some whey if you want to make ricotta later.


Cook the curds till they resemble scrambled eggs and the curds sink to the bottom.


Then strain as much whey off as you can using a strainer or fine mesh strainer(reccommended). I had trouble using my regular strainer.


I assembled a makeshift press. Using a giant canner as a place to collect the excess whey, I placed a bowl in the bottom, and a plate on top of the bowl. Using a springform pan for a mold, I took the bottom out and lined the pan upsidedown, with a clean cotton cloth. (the pan in the open postition, so that the bottom part is free to move down as the whey is pressed out). I filled the "mold" with salted curds. (I used 1/4 cup)


I covered the pan with some of the remaining cloth and weighted it with jars of jam and a large can of tomatoes. This is roughly equal to about 10lbs of pressure. The recipe I used called for 25 lbs of pressure, so I will be getting a paver from our yard to place on top of these.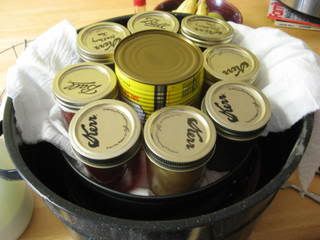 I removed all of the weight for a a quick taste since some of the cheese had squished above the weighted lid, and its super yummy, but not firm enough. It will have to sit for at least 10 more hours to be firm enough to be considered done. Once I remove it from the weighted pan I have to cover it with salt and place in clean dressing in the fridge and change the dressing everyday until it no longer puts out moisture. Then I have the option of eating it, or covering it with wax and letting it "age" but that prob won't happen! Bon appetit'