I have been gone for so long..But now I am here. I was busy getting ready for my jam booth and then I have been sick. Time for review!
Well since I have not blogged for a while some pics are due.
Zach and Gene went to the kids fishing derby. While Zach did not get a big one, he did however win a new hat and had a great time with our friends from the Parker-Timms family.


We also attended a really fun May Day party, complete with May Pole. Here are some pics of the kids walking around it:


Amadeus and Daniel


Eli and Nonni


Zella and Ameera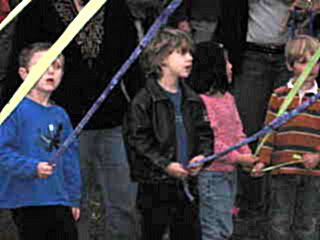 Zach and River
The party was a really good time and where I picked up my wonderful illness. Too much meade sharing I guess.
The chicks are turning into fine ladies here are some new chick pics:


The ducks: Toot and Puddle and Big Bird


Zach's chicken Mariette


Tabitha our Barred Rock chicken (my favorite)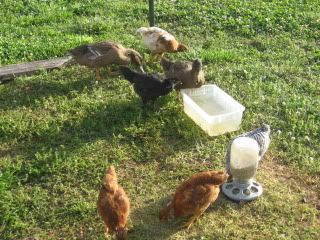 Breakfast time for the ladies

And now for the menu!

On Sunday we had a corned beef with new potatoes and baby carrots. And the leftovers will be recycled into a mid-week meal.

Monday:
Crock Pot BBQ Chicken
coleslaw
baked beans

I am using leg quarters because they were .30 a lb for 10 lbs, I broke the bag into 3portions so I can get three meals out of them.

Chicken:
1 tbsp butter or margarine
1 large onion sliced into rings
3 leg quarters or assorted pieces of chicken
garlic powder
salt and pepper
1 bottle BBQ sauce

Cut chicken quarters into two pieces each. Put butter into bottom of crock, lay sliced onions on top. Salt and pepper, and sprinkle chicken with garlic powder. Brown on all sides. Place in crock, and cook on low for 6 hours. Cover with sauce the last hour of cooking. Serve with coleslaw and baked beans.

Tuesday:
Slow cooker beef and broccoli
steamed rice
2 lbs round steak, cut into small cubes
½ cup flour
1 teaspoon paprika
½ teaspoon each salt and black pepper
3 Tablespoons olive oil, divided
1 medium onion, diced
4 garlic cloves, minced
1 cup beef broth, divided
1/8 cup soy sauce
1 Tablespoon freshly grated ginger root(i use the jarred stuff)
1 bunch fresh broccoli cut into florets

Coat the meat with flour, paprika, salt and pepper.
Heat 1 Tablespoon of oil in a large skillet on medium high heat. When hot, add ½ of the flour coated beef.
Brown the meat on all sides.
Place browned meat in a slow cooker.
In the same skillet, heat 1 Tablespoon of oil and sauté the onion and garlic. Add ½ cup of beef broth, the soy sauce and ginger root. When this liquid is hot, pour over the beef in the slow cooker.
Cook on low 5-6 hours for ½" beef pieces. If beef is in 1"pieces or larger, cook on low at least 7-8 hours or until beef is tender.
Stir in steamed broccoli when meat is done. Mix well. Serve over hot rice.

Wednesday:
leftover meal
Corned beef hash
scrambled eggs
fruit

hash:
1 1/2 cups cubed cooked corned beef
2 cups frozen hash browns(the cubed style)
1 1/2 cups beef broth
1 finely minced small onion
Vegetable oil (for frying)

Saute the onion in a small amount of veggie oil until just softened, add the potatoes and a more oil and cook for about 5 minutes. Add the corned beef and cook for 5 more minutes. Add the beef broth and cook on high until the liquid is absorbed.
Cook until a soft crust forms. Serve hot with scrambled eggs and fresh fruit.

Thursday:
Homemade clam chowder
garlic bread

Chowder:
3 (6.5 ounce) cans minced clams
1 cup minced onion
1 cup diced celery
2 cups cubed potatoes
1 cup diced carrots
3/4 cup butter
3/4 cup all-purpose flour
1 quart half-and-half cream
2 tablespoons red wine vinegar
1 1/2 teaspoons salt
ground black pepper to taste

Drain juice from clams into a large skillet over the onions, celery, potatoes and carrots. Add water to cover, and cook over medium heat until tender.
Meanwhile, in a large, heavy saucepan, melt the butter over medium heat. Whisk in flour until smooth. Whisk in cream and stir constantly until thick and smooth. Stir in vegetables and clam juice. Heat through, but do not boil.
Stir in clams just before serving. If they cook too much they get tough. When clams are heated through, stir in vinegar, and season with salt and pepper.

Friday:
Spaghetti and meatballs
green salad


I had an uneventful jam booth at the preschool 5K. I made far less than I expected, but I have some people who want jam, so I won't worry too much.
The garden looks wonderful and prospect of yummy veggies makes me very happy. I will try and post some pics of the garden soon.