The week went by so fast!
Last week we attended Zach's graduation..from preschool. The co-op preschool has been a wonderful place for him to grow and learn. I have been told that its the second oldest co-op preschool in the United States..the first one of course is in Boston.
http://www.lcnsweb.com/index.html

We love this place so much! So Zach is going to attend summer school there, and move on to kindergarten in the fall.


Waiting on stage to sing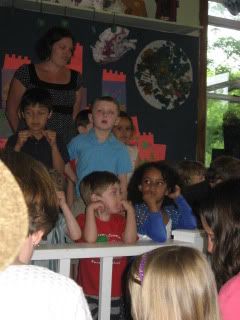 Singing



His teachers



Walking across the stage to get his "diploma"



Waiting to toss his cap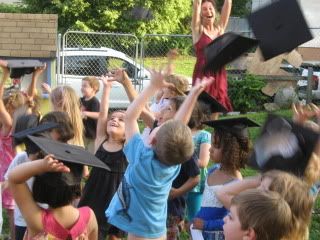 The tossing of the caps



The catching of said caps...

Whew! That was fun, I think he had two giant cookies and 3 cupcakes. Good thing we kept him up til midnight at the teachers party.

Here are some garden pics:


Strawberries



peas



here is where we grow our zach..errr cabbages



cauliflower



potatoes..25 plants!



the cherry tomato plant that I grew all winter is still adjusting



Radish and turnips

Yeah life is great here on the farm..I mean in town..lol.

Here is the menu just in case you were wondering:

Sunday:
Spaghetti and meatballs
green salad
Make extra pasta as some will be needed for Wednesday meal.

Monday:
Baked chicken
steamed cauliflower

Tuesday:
Spinach and potato curry

2 bunches spinach
1 tablespoon minced garlic
2 tsp minced ginger
1 onion diced
1 can green chilies (small can)
1/5 150z can coconut milk
2 tablespoons Madras curry powder
salt and pepper to taste
10-12 med. to small red potatoes boiled and then diced
(make two batches of potatoes for potato salad later in the week)
olive oil

Soften onions in olive oil, then add ginger and garlic. Add spinach and more olive if needed. Saute all together until spinach is wilted and softened. Remove mixture and place in blender or food processor. Add half of the coconut milk and all of the curry powder, and a bit of salt and pepper. Puree adding more coconut milk as needed. Remove, stir in potatoes and heat if needed. Serve warm.

Wedsnesday:
Chicken Lo-Mein
Sauce:
1/2 cup chicken broth
5 tablespoons soy sauce
1 tablespoon lemon juice --plus
1 teaspoon lemon juice
2 tablespoons brown sugar
2 cloves garlic minced

cooked linguine or spaghetti
2 boneless skinless chicken breasts --cut in strips
2 tablespoons soy sauce
2 tablespoons lemon juice
nonstick cooking spray
1 tablespoon oil
1 onion cut into rings
1 carrot shredded
1 yellow, red or green bell pepper sliced in strips
12 oz broccoli florets
ground black pepper
1 tablespoon cornstarch --mixed with
2 tablespoons chicken broth or water
(you can mix it up with the veggies use whatever is in season or what you have on hand)

To prepare sauce: Combine broth, soy sauce, lemon juice, brown sugar and garlic in a small bowl or measuring cup. Stir well to dissolve brown sugar.
marinate strips of chicken in soy sauce and lemon juice. When you are ready to cook, drain the chicken thoroughly; discard the soy-lemon marinade. Lightly coat a wok or large skillet with cooking spray. Heat oil in wok until very hot, then add chicken and onion wedges. Cook over medium-high heat, stirring frequently, for 2 minutes. Add carrot, bell pepper and broccoli; cook, stirring occasionally, for 5 to 7 minutes or until broccoli is tender but still crisp. Pour in sauce; bring to a boil.
Stir in cooked pasta; stir to coat evenly with sauce. Add black pepper to taste. Stir cornstarch mixture into the noodles and vegetables; cook about 30 seconds, or until sauce thickens slightly.

Thursday:
Stove top cheeseburgers
potato salad

Friday:
Crockpot citrus chicken

1/4 cup lemon juice
1 cup green beans
8 chicken thighs and legs
8 ounces orange juice
1/2 cup honey

Add lemon juice to the bottom of crock. Then cut green beans in bite sized pieces and add to crock pot. Add chicken thighs on top, pour over OJ and honey. Cook on low 6-8 hours.
Soo yummy.

Have a great week everybody. Evie